Here are some of the products we offer.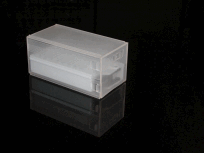 ---

300-500, Economy 50-pack with hold down insert.

300-510, 50-pack for ringless drills.

300-520, 50-pack for large drills and routers.

500-10, 50-pack with locking mechanism.

1000-1, 10-pack with ribs, no foam.

1000-2, 10-pack without ribs with foam.

New pic!, Depth setting rings.

New pic!, Ring grippers.

New pic!, Single tool holder.
Please call for pricing or to place an order.